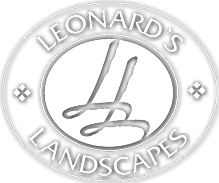 Welcome to Leonard's Landscapes,
The hardscape specialists, where quality and hard work
are what we stand for.
At Leonard's Landscapes,
we are committed to creating
beautiful, long-lasting environments.
Walkways • Retaining Walls • Patios
Natural Stone Work • Drainage • Decks
Driveways • Excavation
We are a full-service Hardscaping & Landscaping company committed to serving
extraordinary communities and residences. Contact us for a FREE Consultation.

WALKWAYS & DRIVEWAYS
Borders interlocking paver's, flagstone, brick, porous pave, permeable paver's, interlocking concrete, cobble stone and steps where emphasis is put on construction methods for longevity.

NATURAL STONE WORK
Why not natural stone, we can create walkways, steps, garden walls all using
natural materials.

DRAINAGE & EXCAVATING
Drainage, gutter wells, perimeter drains, reshaping land, trenches and septic.

DECKS & PATIOS
Wood structures, Stone structures, Outdoor living spaces, Kitchens, Raised and Sunken garden patios.

RETAINING WALLS
Landscape ties, Natural stone, Segmental retaining wall blocks. Emphasis put on drainage and structural integrity.

EXTERIOR LIGHTING
Lamp posts, Low voltage lighting.
L.E.D. accent lighting.
Dear Jon,
Thanks so much for the hardscape, we will enjoy it without a doubt! Thank you for bringing the table and chairs to the patio for me. I appreciate the hard work your team performed. Thanks!
-Cindy



Leonard's Landscapes installed a walkway at our home that enhanced our whole yard. They were professional, courteous, hardworking and clearly dedicated to there profession. As promised they completed there project on time and the walkway turned out better than anticipated. It's been years since the installation and I am happy to say it looks just as good today as the day it was completed. I highly recommend Leonard's Landscapes and look forward to another project in the back yard!
-Jane B.

With years of experience in Hardscaping, we have some projects to show for it.


Welcome to Leonard's Landscapes, The Hardscape specialists, where quality and hard work are what we stand for.
We assist both the home owner and builder, creating long lasting relationships. Whether it's a retaining wall or your dream outdoor living space we are dedicated to creating your vision. Over 20 years experience with customer satisfaction.
SERVICES:
• Construction of Walkways, Retaining Walls, Patios.
• Natural Stone Work
• Drainage
• Decks
• Driveways
• Excavating
• Landscape Accent Lighting
• Exterior Lighting
CERTIFICATIONS
Certified Porous Pave installer
www.porouspaveinc.com
Authorized Belgard installer
www.belgard.com
Techo- Bloc Pro Installer
www.techo-bloc.com
ICPI Certified
www.icpi.org
NCMA Certified
www.ncmahq.org
Licensed Septic Installer
WITH OUR CONSIDERABLE EXPERIENCE AND EXPERTISE,
LEONARD'S LANDSCAPES WILL DELIVER.
Copyright © 1999- Leonards Landscapes